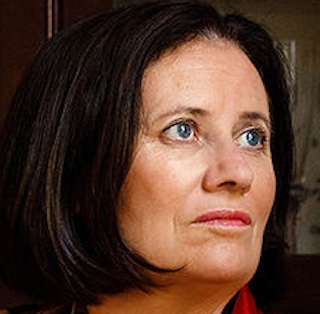 Madeleine D'Arcy is a fiction writer based in Cork City, Ireland. Her second book, "Liberty Terrace," a linked short story collection, was published in Oct. 2021. Her début short story collection, "Waiting for the Bullet" (Doire Press, 2014) won the Edge Hill Readers' Choice Prize 2015 (UK).In 2010 she received the Hennessy Literary Award for First Fiction and the Hennessy New Irish Writer Award.Her work has been published in several anthologies and her short fiction has been listed in a variety of competitions, most recently the Craft International Short Story Award 2020 (US) and the Writing.ie An Post Irish Short Story of the Year 2021. She has also completed a novel. Since January 2017, she has co-curated Fiction at the Friary, a free monthly fiction event in Cork City, with fellow-writer Danielle McLaughlin.
What is the most important lesson you've learned as a writer?
Talent is not enough. You also need patience and diligence. My advice to emerging writers is to take your time, learn your craft, read a lot, try to make your own work as good as it can possibly be – and don't send it out until you're sure it's ready.
What has been the biggest surprise of your writing life?
In 2010, I won the Hennessy Award for Emerging Fiction and the Hennessy New Writer of the Year Award on the same night, with my first ever published short story. It was a surreal experience. I was absolutely shocked. To be honest, I was a bit drunk as well, because free cocktails were provided at the event and my reasoning was that I might as well enjoy the night and party on, since there was no way I was going to win.
Another big surprise was to win the Edge Hill Reader's Choice Prize for my first short story collection, Waiting For The Bullet (Doire Press, 2014).
I never expect anything. It is probably best to have low expectations. A writer's life will also involve fallow years, when life puts obstacles in your way. All you can do is persevere. The good times will always come around again if you don't lose heart .
If you had to use a metaphor to describe yourself as a writer, what would it be?
I figure I might be a bee. I buzz quietly around my own little patch of the world, taking an interest in what's happening and quietly going about my own business. I am small and hard-working. It would be easy to underestimate me or ignore me, and I have had to deal with all kinds of drones and several obnoxious queen bees in my time, but I'm learning not to be such a push-over. Most importantly, in the end, after a lot of hard work, I manage to produce some fine honey.
What's the best piece of writing advice anyone ever gave you?
I once did a workshop with the late, great Canadian writer, Alastair MacLeod (1936-2014). His novel, "No Great Mischief," won the 2001 International IMPAC Dublin Literary Award). He was a truly wonderful man, both funny and wise. He said "The best writing is specific in its setting, but universal in its theme." I think that sums up
good writing perfectly.