Every other Friday, check your inbox for a jolt of inspiration. Subscribe to "Chip's Writing Lessons" and look for:
Craft Lessons. Explore the process of writing and reporting.
Writers Speak. Quotes that instruct and inspire.
Four Questions. Interviews with leading writers and editors.
Bookbag. Craft lessons gleaned from what I'm reading.
"Ask Chip." Answers to your questions.
You can read the newsletter archives and also follow me on Twitter and Facebook.
May the writing go well,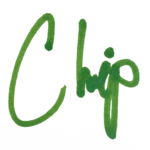 Photograph by Mathyas Kurmann courtesy of unsplash.com