Greetings!
Happy New Year! May 2022 bring safety, good health, and lots of reading and writing.
After a week's holiday, I'm looking forward to starting the New Year by sharing new Four Questions with… interviews, Craft Lessons, Readings to Savor, and much more. Tomorrow's interview is with award-winning New Yorker staff writer and author Paige Williams who discovers the universal by tracking the granular.
I hope the holidays brought you the best writer's gift: books.
For Christmas, I got Jonathan Franzen's acclaimed novel "Crossroads." I'm looking forward to diving in.
Please consider two writing advice books that I just published. Both are available on Amazon in paperback and ebook editions through my author page or the direct links below.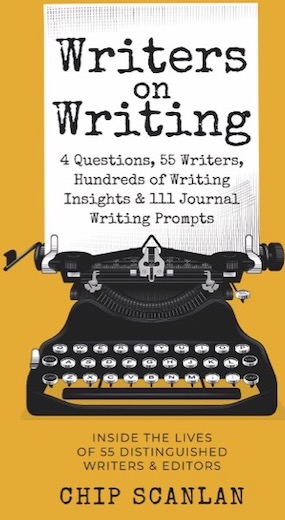 Writers on Writing: Inside the lives of 55 distinguished writers and editors. It's an anthology of interviews drawn from two years of reaching out for Chip's Writing Lessons to best-selling authors Susan Orlean and David Finkel, Pulitzer Prize-winning journalists Lane DeGregory, John Branch, Diana K. Sugg and Thomas French, acclaimed poet Patricia Smith, Edgar Award-winning mystery writer Bruce DeSilva, powerhouse narrative editor Jan Winburn and 46 others that you first met here. 55 writers. Hundreds of Writing Insights. 111 journal writing prompts make it an interactive writing workshop.
"By asking four questions to 55 of our finest writers and editors, Chip Scanlan has hosted one of the greatest writing conferences you will ever attend." – Roy Peter Clark, author of "Writing Tools", "The Glamour of Grammar," "Murder your Darlings."
"A marvelous book for writers, people who have a passion for writing, or simply, who want to become writers. Yet what strikes me about this book is that it is not just for writers only." – The Blogging Owl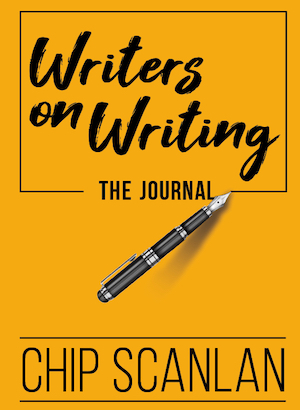 "Writers on Writing: The Journal" is a companion or standalone volume with 55 coaching tips, 55 inspirational quotes, like the ones you find here in the "Writers Speak" feature, and the 111 writing prompts drawn from the first book, along with three blank pages after each chapter. Here's the place to start your day with reactions, stories, dreams.

READING MATTER
In this piece for Poynter Online, Roy Peter Clark wrote a tribute to writers who write about their writing and included the foreword to my first book, along with his Four Questions interview.

And ICYMI, here's my story behind the self-publishing journey that produced these two books and also provides a wealth of information for anyone considering that route to bring their books before the public.

My New Year's resolutions for 2022: Never a day without a line. Publish more. Visit my local independent bookstore, Tombolo Books, in St. Petersburg, Fl. Support the independent bookstore in your community.
What are yours?
BEFORE YOU GO

Please spread the word to sign up for Chip's Writing Lessons.
Interested in personal coaching? Reach out to me at chipscan@gmail.com.
Browse the newsletter archive. To find earlier issues, scroll to the end of the archive page, where you will find arrows that help you toggle back and forth between them.
Question? Comment? Suggestion? Email me at chipscan@gmail.com or send a reply to this newsletter.
May the writing go well, and may you be well.
Nulla dies sine linea / Never a day without a line
Black Lives Matter