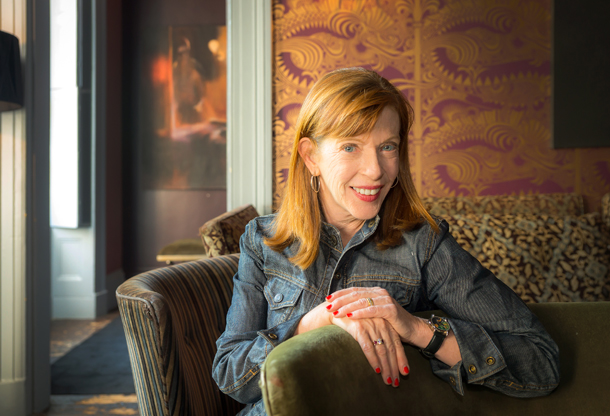 Susan Orlean is the author of eight books, including "The Bullfighter Checks Her Makeup"; "My Kind of Place"; "Saturday Night"; and "Lazy Little Loafers." In 1999, she published "The Orchid Thief," a narrative about orchid poachers in Florida, which was made into the Academy Award-winning film, "Adaptation" starring Nicolas Cage and Meryl Streep. Her book, "Rin Tin Tin: The Life and the Legend," a New York Times Notable book, won the Ohioana Book Award and the Richard Wall Memorial Award. In 2018, she published "The Library Book," about the arson fire at the Los Angeles Public Library. It won the California Book Award, the Marfield Prize, the USC Library Scripters Nonfiction Award, and the Maxine Cushing Gray Award. It was also longlisted for the Andrew Carnegie Medal, and was a New York Times Notable Book of 2018.
Orlean has been a staff writer for The New Yorker since 1992, and has also contributed to Vogue, Rolling Stone, Outside, and Esquire. She has written about taxidermy, fashion, umbrellas, origami, dogs, chickens, and a wide range of other subjects. She was a 2003 Nieman Fellow at Harvard University and a 2014 Guggenheim Fellow. She is currently adapting "The Library Book" for television. She lives with her husband and son in Los Angeles.
What's the most important lesson you've learned as a writer?
I've learned to be present — to really focus on the moment, absorb it and appreciate it. This applies both to writing and to life in general. We spend a lot of time as writers troubling over the right tape recorder and the right writing software and that sort of thing, when the quality of your attention is really all that matters. Being a writer requires being a "super-observer" and noticing more than other people might observe. The rest will just fall into place.
What has been the biggest surprise of your writing life?
How entrepreneurial you have to be! I never thought of myself as a small business owner, but that's exactly what I am. That's not a very romantic or artistic notion but it's reality, and the better you are at running your business, the more you'll be able to devote yourself to the more artistic aspect of your work.
If you had to use a metaphor to describe yourself as a writer, what would it be?
I'm a widget-maker. The widgets I make happen to be sentences, and I run a little factory that churns them out at a steady pace.
What's the best piece of writing advice anyone ever gave you?
Many years ago, my first great editor told me to look at my work as having three distinct parts: reporting, thinking, and writing. They have to be done in that order; you can't write until you've done your reporting and then — the crucial step that's often overlooked — you have to think about what you've learned and what you're trying to say about it. Only then can you put pen to paper. Writing is the end result of the other two steps. It's the best advice I've ever been given, and I think about it all the time.