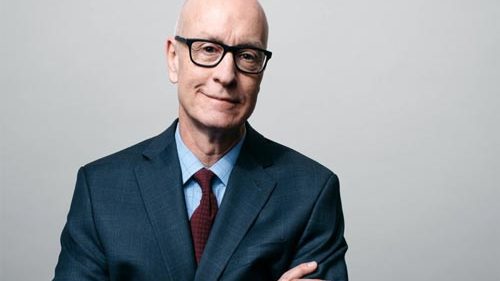 What's the most important lesson you've learned as a writer?
It doesn't get easier. In fact, I find that the process gets harder. I expect more of myself than I did as a young newspaper reporter, and so I am increasingly more conscious of all that is at play, even on deadline: the choice of words, the rhythm of language, the avoidance of preciousness, the necessity of clarity — the killing of darlings.
What's been the biggest surprise of your writing life?
The biggest surprise to me is how writing often seems like mathematics. Let me start by saying that I used to work as a waiter at a church bingo hall. The manager would give me two dollars to start the night. For three hours I would collect tips by hustling coffee and doughnuts to women shouting "Shake up those balls" whenever O-66 was called. And then, at the end of the night, I'd have $1.85. Which is a long way of saying I suck at math. I hate math. But writing to me often seems like calculus. Trying to crack some code, only with words, not numbers. This noun plus this adjective plus this verb minus this adverb equals part of an equation, the solution of which is revealed only when I think I have it just right. Which often means I'm still fifteen cents short.
If you had to use a metaphor to describe yourself as a writer, what would it be?
How about a woodpecker, constantly banging his head against a tree — or desk — digging away, deeper and deeper, over and over, in search of coming upon something worthy. Instead of a delectable insect, a perfect word. And yes, I know, woodpeckers also peck to make nests and attract mates. So maybe a better metaphor is the Occasionally Successful Sisyphus. Sweating it out in Hades, he struggles to push that boulder uphill. And every once in a rare while, he thwarts Zeus and reaches the top.
What's the best piece of advice anyone ever gave you?
It came from Tom Heslin, who in the early 90s was the investigations editor at the Providence Journal. I was working on a multi-part series about a banking scandal, and I sent him a version of one of the stories – perhaps too quickly because I was eager to get it in the paper and move on. As I remember it, his advice came across the Atex message system. And all it said was: "Slow it down."Those three words have had a profound impact on me, and I've interpreted them in different ways over the years (recognizing all the while that they might not easily apply to deadline stories). Slow it down in digesting the material you've gathered. Slow it down in the time you spend to craft your long-form narrative. But, most of all, slow it down when it comes down to time – to moments that, when carefully and concisely shared, can add dimension to character development or to a tick-tock. This happened, this happened, this happened – wait, let's take another beat on this moment – and then this happened and this happened…By slowing it down, you move yourself even further from stenography. You become a storyteller.
---
Dan Barry is a longtime award-winning reporter and columnist for The New York Times and an author. In addition to sharing a Pulitzer Prize with former colleagues at The Providence Journal, he has received, among countless other accolades, a George Polk Award; an American Society of Newspaper Editors Award for deadline reporting (for his coverage of the first anniversary of Sept. 11); a Mike Berger Award for in-depth human interest reporting; and the PEN/ESPN Literary Award for Sports Writing. He has twice been a finalist for the Pulitzer Prize: once in 2006 for his slice-of-life reports from hurricane-battered New Orleans and from New York, and again in 2010 for his coverage of the Great Recession and its effects on the lives and relationships of America. His books include "The Boys in the Bunkhouse: Servitude and Salvation in the Heartland,," "Bottom of the 33rd: Hope, Redemption, and Baseball's Longest Game,"City Lights," "Pull Me Up:' A Memoir," and most recently, "This Land: America, Lost and Found."
May the writing go well.